Joseffy's Expanding Queen
Of all the things in my collection this must rate at or very near the top of the things I most treasure.  Not only for its actual monetary value but because it was built by a man with a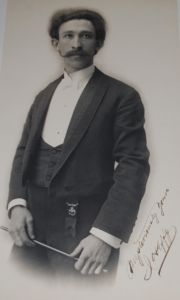 very special place in magic history: once called the Einstein of magic, Joseph Freud, also known as Joseffy.
For those of you who do not know Joseffy I will fill you in with a short biography.
Joseph P. Freud was born in Austria on March 3 of 1873 and passed away on May 26 of 1946.  He came to the USA at the age of 19 after traveling extensively through Europe.  He was a man with a scientific mind.  By all accounts a genius.  He was also a concert violinist (which he played as part of his magic presentations) and a master of six languages and five trades.  David P Abbott wrote: "Joseffy is among the best originators since Robert Houdin's day". He added: "I do not mean to disparage the performances of other conjurers but merely to say that the creations of Joseffy are in a class by themselves".
Joseffy settled in Chicago where he became an electrical and mechanical engineer.  He eventually headed the Chicago Precision Instrument firm that bears his name.  It was said his workshop appeared like a mad scientist laboratory.  Some of Joseffy's illusion inventions include: 1. Any card called for rising cards (absolutely no force) from a beautiful card case in imitation of a lyre held in the hand of a cupid made of gleaming metal 2. The Expanding Die to Woman and after the woman is produced she is vanished into thin air during a fiery flame only to turn into a large rose bush 3. The mechanical clockwork rapping hand (owned by Johnny Gaughan) 4. The Congress of Nations in which he produces a table, chairs and a complete place setting along with two lovely ladies to accompany him form a 24-inch ring.  5. The Phantom Quartet in which four real skeletons play music and the most famous of all 6. Balsamo the talking skull (also owned by Johnny Gaughan).
You can read about these illusions and more in David Abbott's "the Marvelous Creations of Joseffy" that was published in 1908.  There are copies still around so if you want to read more you can find one.
You must understand that in his lifetime Joseffy was not only admired by his fellow magicians but they had a reverence for him.  He was on a pedestal and his creations even then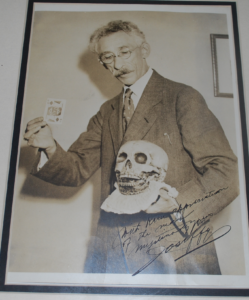 legendary.
At a performance of Balsamo in New York in 1932, a young John Mulholland whispered to a reporter for the New York World Telegram "That skull is one of the famous modern illusions of magic. No one knows how it is done but Joseffy.  There are men here tonight who have been anxious to see it for years.  It is magic for a magician".  After the performance, the reporter wrote "There was not a doctor, lawyer, engineer, architect, merchant, dentist, broker, jeweler, professor or preacher in the audience who would have missed that evening. The law and the heaven, along with tomorrows skyscraper and the ticker tape and the business upturn would have to wait an hour or two".
Joseffy as most geniuses, was a bit of an eccentric. He was also a perfectionist.  Alter developing for two years an illusion involving a request playing guitar and mandolin he became dissatisfied with it and threw it on the trash heap.  The illusion worked, just not to perfection.
Joseffy had no modesty issues.  While honoring a request from Howard Thurston to demonstrate Balsamo he put Balsamo on a table right between Thurston's knees.  Thurston said "You're not going to do it that close, are you? Joseffy replied "Certainly".  "But I am Thurston" Thurston replied meaning he would discover the secret. Joseffy then stated "Yes, but I am Joseffy".
So that brings me to the subject of my little blog tonight (bet you thought I would never get there).
The Joseffy expanding card.  It is a system of gears, springs, levers and latches all designed to do one simple thing: expand a normal bridge sized queen of hearts into a jumbo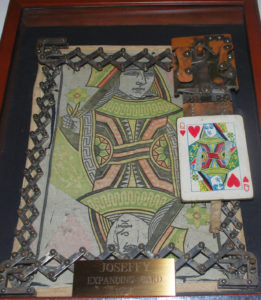 queen about 8 by 11 inches.  The queen was then handed out as a souvenir for the evenings performance.
OK, there are much easier ways to accomplish this but not for a genius mechanical engineer. For your benefit, I am not only including photos of the prop as it sets in my Joseffy exhibition display case, but have included photos of the prop in each phase of its operation.  It is a thing of beauty.  I am also including a photo of the souvenir card handed out in a 1915 performance (9 years after its construction).
Since Johnny Gaughan is not likely to sell Balsamo any time soon, this is the next best thing for me.  It is a unique piece of magic from one of the most famous magic engineers of all time: The Great Joseffy! Very few works of this master engineer are left to view.  I am privileged to own it.
I should mention that the Expanding Queen was owned for many years by Claude Crowe who was a long-time member of The MCA, the Magic Circle and many other organizations.  He was also a friend to many of us. I was very fortunate to acquire it from his estate.  I could tell from his documentation that he cherished it as much as I do.  I have left it in the original case he put it in.
*All photos used in this article are from my own collection.  Please do not reproduce them without permission.