Welcome to my first blog! I plan to post blogs an average of two times per week. I hope you find them interesting and that they lead to further thinking and discussion. I will be posting my thoughts on several different themes. I hope at least one of these appeals to you.
1. "A few of my favorite things" from the Countrybrook Conservatory of Magic
What is the CCM? It is my own collection of magic antiques from posters to ephemera to apparatus and yes even books. I will be posting photos and describing the item's history in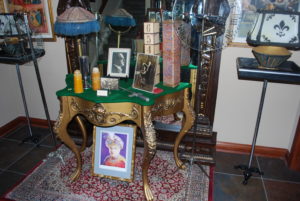 detail and why it is one of my favorite things. All the items reside here in Countrybrook with me.
2. "Thoughts on Collecting"
Admittedly a rather broad category but I will discuss different aspects of collecting and even bring up some of the age-old discussions such as "What do I do with my magic collection", "to restore or not restore ", "How do I determine value" and a host of things I would like to share.
3. "The latest auction activity"
Auctions are a way of life in magic collecting. I find them fascinating! I will discuss my thoughts on the latest auction news and results.
4. "Houdini Speaks"
You're right. Don't we know enough about Harry? I Would believe more has been written about Houdini than all other magicians combined. I am not trying to compete with John Cox's outstanding Wild About Harry site. It is one of the finest blog sites there is. I hope to bring you some insights into the man using his own words and the word of others who corresponded with him. It should be interesting. If you have heard enough about Houdini or are just not a fan at least you can click off once you read the title and drift back to the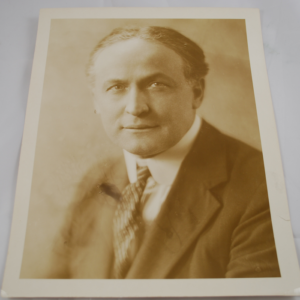 newest collectibles I have to offer!
5. "It's just history"
I will discuss historical related incidents, dealers, magicians etc. Much of this will be from my own files. I don't intend for this to be a rehash of the history books but hopefully little known facts. If we are to be fully rounded collectors, we must understand Magic's history. It's just that simple.
Many of you do not know me personally so I will give you a brief history of why I should even be writing about magic and more importantly why you should even care to read what I write.
I am 61 years old. I have been collecting magic apparatus since 1995 when I attended my first MCA convention. It has been quite an adventure since that weekend. I have quietly amassed one of the largest collections in the United States. This while working as the Senior VP of Supply Chain for the Bon Ton Department stores.
I went to the Bob Lund school of magic collecting which says "I want it all" so I have no specialization. A few years back I gave up summer weekends to lead tours through the American Museum of Magic. My first visit to a collection was a doozy as I visited The Salon De Magie in 1994. Nice start for a first collection to visit! Ken Klosterman lives very close to me so many visits to his museum continue to inspire me. Harold Puff was the first to introduce me to the MCA. Since then I have not missed an MCA or NEMCA convention or an LA Conference.
I have been selling magic for many years on eBay (since 1997 under the name Jabo1863 and the store Magic Collectibles which is currently inactive). Three years ago, I took over "Old Magic Props.com" from Terry Harris who was a good friend of mine. This was a website that sold magic but mostly on consignment. Two years ago, I closed that site and opened MagicCollectibles.com. Currently the consignment part of this website represents less than 5% of the total. The rest is owned by me. We have expanded the site from 350 members when I took it over to 513 members. I have owned the domain name of MagicCollectibles.com for more than 10 years as it was always my intention to have this business when I retired from my Business Career which I did last year.
I have learned a lot in the past 20 plus years. I call most all the major Magic Collectors here in the US my friends and in most cases not just acquaintances but true friends. I have spent my time gathering knowledge from each of them. I visit them and they visit me. Magic Collectors are truly wonderful people willing to share anything (except their sources of acquisition which they guard with zeal!).
I have never written before (a few posts on the Thayer website don't count) but now I feel I have the experience and expertise to share my thoughts with you in hopes that I help you avoid some of the mistakes I made and to bring more of you into the wonderful world of magic collecting.
I hope you agree as you follow my thoughts go forward.
Jim Rawlins
MagicCollectibles.com