This is the last installment of this series of Houdini Blogs.  I thought it might be interesting to review some not so well known facts about Houdini and review a few details of how the Red Magic Section (Edited by Houdini) in The World Newspapers came about.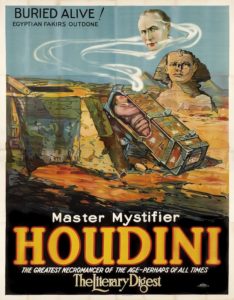 Did Houdini actually do a buried alive effect as evidenced by the 8 sheet poster?
IF you are a true Houdini buff you likely already know the answer.  But since the rumor is the escape was never done I will let Houdini speak for himself to answer this question.
In a letter dated week of September 27th, 1926 from the Worcester Opera House to James Harto Houdini states: "I put on my Buried Alive mystery this week-calling it the Mystery of the Sphinx.  I am placed into a coffin with a glass front that is lowered into a vault which has a glass, so I can be seen all of the time-until the sand completely covers everything- one ton.  Fastenings on the vault and in about two minutes I make my escape.  I like it very much.  Have everything to make it look Egyptian but am not going to do it except for two or three week stands".
So, there you have it.  Houdini did perform it, once maybe twice and that was it.   A copy of Houdini's signed letter owned by Tom Ewing appeared on the Wild About Houdini website.  I thought you might like to see Houdini's personal copy of that letter here.
Who wrote the Conjuring section of the Encyclopedia Britannica in 1926?
That would be our boy Harry.  Houdini received $15 for the task (see letter dated August 13th).
On August 19th Houdini acknowledged the check receipt and says, "Consider it a wonderful compliment and wish you know it is thoroughly appreciated".
Was there ever a Houdini Perfume?
Technically yes! Houdini requested a fine perfume be made that he could toss out at his shows.
The reply from Toilet Requisites President Fred'k J. Pope came on August 20th saying, "I have your letter of confirmation and have written today to the producers of a very fine perfumery, requesting them to see me at my office on Monday Morning at 10 o'clock". If you do not object, I will send the gentlemen out to see in order that the plans may be worked out".
Six days later this confirmation letter went out to Houdini from BIll Wisemen of the Armand Company saying, "I am sending you a bunch of souvenirs to be thrown out at the shows as suggested by your letter of August 12 to Carl Weeks".
So, Houdini requested the perfume on the 12th, received a response on the 20th and the actual perfume was sent out on the 26th.  This makes it very unlikely that it was embossed in any way with Houdini's name.  All we can hope for is that some very nice lady collector (or her collector husband) made a note of where the perfume came from and recorded it for prosperity and placed the note with that bottle somewhere for one of us "Houdini nuts" to find.  If you have found one, you now have provenance!
Red Magic Section in The World Newspapers: Houdini as Editor
We all know about this.  I thought it may be interested to look at two aspects of it. The confirmation letter Houdini announcing it from the stage and the letter to the secretary of the SAM Richard Van Dien explaining the SAM's role in approving the various issues.
The World had a huge New York publicity campaign for the newsletter using everything from store windows to billboards.  In a final note on the letter to Houdini Editor William Johnson says "The section seems to have made a big hit and I think you will come home to find yourself more famous than ever.  If there was a man, woman or child in New York who didn't know who you were, they certainly do now" (see letter).
In a letter to SAM'S Richard Van Dien Johnson States "The World has made arrangements with Mr. Houdini to act as editor of the "Red Magic" section.  Mr. Houdini has agreed to serve in this capacity only on the condition to which the World has agreed- that none of the fundamental principles of magic shall be exposed and that all magic tricks to be published shall be submitted before publication to the Committee of your Society".
Houdini as the "Editor" had just created work for the SAM.  At least in this manner he was sure no exposure arrows would be shot at him as the various publications were published.
So for now we end our three part Houdini blog series.  If you enjoyed it, don't worry, Harry will be a constant visitor in the blog space!
In next week's blog by special request I will discussing insuring your collection: Is it a good idea or a waste of money?