In 2015 it was reported that Houdini threatened retirement on Oct 14th just over two weeks away from the end of his life.  This is not news to Houdini followers but if you have just a passing interest in Houdini this may very well be news to you.  Since I own the Houdini retirement letters I feel it is ok if I give you the story once again to benefit the Magic Collectible readers who are unaware.   I will also add an additional piece of information for the Houdini "nuts" (I am one of them) which helps clear up part of the story.
On October 11th Houdini fractured his ankle while performing the Water Torture Cell in Albany New York. He went on to perform his show on the evening of the 12th minus the Water Torture cell.
The tour was to continue in Schenectady on Oct.14,15 and 16. It was in Schenectady that Houdini discovered a clause in his contract (pointed out to him by a Mr. Stuckel of Shubert Theaters).  The clause indicated that if the show could not go on for any reason, Houdini would have to pay Shubert Theater Organization $1,000 per day that the theater was closed.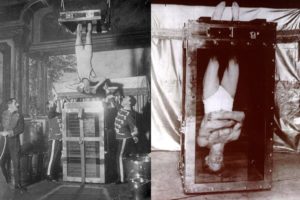 To say Houdini was upset at finding this out was an understatement.  On Oct.14,1926 he lashed out at Jules Murray of the Shubert Theater in a letter saying "If that is the case I herewith cancel everything after the Detroit engagement as I positively will not accept any contracts under those conditions".
Houdini adds, "It is my human opinion that where an Act of God, accident or illness of the principle player. Prevents a performance that there shall be no basis for damage.  All I ask is a contract that is equitable to both parties".
He then turned his attention towards his show manager L. Lawrence Weber.  In a letter he states "I am surprised that any sensible manager would sign a contract with such a clause in it and I am perfectly willing to leave the road before I would take such a chance. According to this contact if I were taken sick it would cost me $20,000 for the three weeks. Am perfectly willing to continue if a new clause is inserted but under the present contract I retire gracefully". The $20,000 is $260,000 in today's terms so you can see why Harry is a bit upset.
Houdini received many letters of good wishes and concern after the injury incident.  He then goes on damage control.  Houdini responds to the Editor of the New York Telegraph on Oct. 15th "regarding the note about me being seriously injured, may I please inform you that although I am not able to do the Water Torture cell experiment, never the less I am doing my entire performance".
"I have an interior fracture of the ankle which necessitates my going around with it partially in a cast for a week or two. I send this to you so folks will not think I am helpless".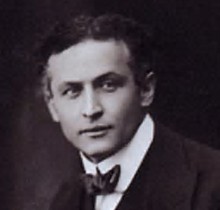 After getting a telegram from REP. Frank W, Osborne he replies "escaped serious injury: sinews prevented total breakage of bones" (Houdini was referring to muscle strength).
So back to the question that was raised when this first broke.  Did Houdini continue to perform despite the injured ankle because of the loss of money in his contract clause?
The answer is a very clear no.  In a letter dated October 12, 1926 to Jules Murry (Shubert Theater) discussing Houdini appearing on the radio he closes with this statement: "Met with an accident last night; fractured one of the bones in my ankle. Am giving the show just the same without any omissions with the exception of the Torture Cell. With kindest regard and best wishes I am sincerely yours".
So, Houdini was going on and planning to continue even before he knew about the contact clause.  It is my opinion that the clause was immediately resolved.  I am still looking for proof of that but Houdini did not mince his words with the two letters he wrote.  I am quite certain that without that clause being re-written or removed that tour would have stopped.
That is pure speculation on my part.  Until that proof is found it can be argued that Houdini went on in Detroit after the "death blow" because of that contract clause.  My opinion is he went on because he was pretty much a tough guy and even at 52 felt a little invincible.
Next week we will discuss Houdini's battle against Astrology "In His Own Words".