For me this was a very interesting auction.  I believe it was the first major test recently of letters written for some of the great close up guys on whose shoulders current close up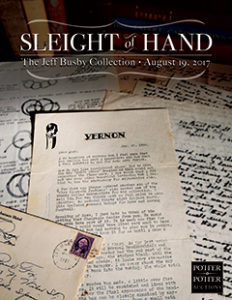 artists stand.
I was more than surprised at the results of some of this correspondence:
106-Charlie Miller to Faucett Ross- estimate $5-7,000 sold for $48,000 with premium
110- Faucet Ross to Frank Csuri – estimate- $2-3,000 sold for $12,000 with premium
120- Vernon to Faucett Ross- estimate $7-9,000 sold for $50,400!  This was almost 30 years of correspondence but WOW!
I guess what this shows is there is a huge market for this type material.  After all this was documenting the foundation for what we think of as close-up magic today.   I guess it was good to be Faucett Ross.  I am not sure if this was a Faucett Ross collector bidding or the other individuals who drove the prices but if Faucett was included it did well.
There were a number of important lots withdrawn before the auction.  It is my understanding that it was an ownership dispute but I am sure we will find out more later.
There were the always present surprises and outliers. The Alexander Striped three sheet sold for what may have been a record at $7,800.  A 1950's reprint of a Malini photo sold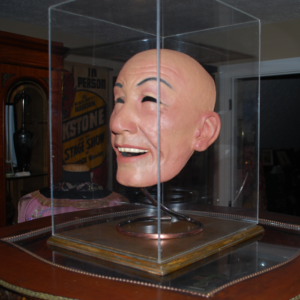 for $270 (I am amazed every time I see this type thing).
I try not to do this but I shake my head at every auction as there are many examples from each auction. A set of Thurston workbooks sold for $1200 while a mint set languished on my site for a year at $649. Also, a half sheet Kellar Portrait sold for $4320 while one on my site in a+ condition sets unclaimed for $3300 (OK enough of that).
My Purchases
Yes, I did buy a few things.  Here they are and why:
#68 Danny Dew's Chinese Mask and Costume–  Many of you know I collect costumes.  That is not why I bought this.  I was after the mask by Jeanne Verner.  Not many around and this one had her label. At the price of $1560 I thought it was a good buy.  I would have paid that for the mask.  I considered the costume a throw in. It is now on display in my home.  See the photo upper right.
#433 Vernon Postcards to Frank Csuri-I wanted these because I own a copy of the hand done Magic of Dai Vernon by Csuri. It is similar to lot 167 of the auction. Mine is pictured to the right with the postcards.  I thought they complimented each other nicely.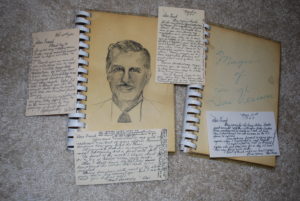 #396-Imro and Pauline Fox cabinet photos-This was an unplanned purchase and a bit of a "crap-shoot". Condition was the concern and when I got them I was pleasantly surprised.  They are a little better than the description would lead you to believe. I think they were a great buy at $360. You can see them on display in the photo to the lower right.
So that is it.  I have read where there were some technical difficulties and that even flashed on my screen a few times.  I did have them as well.  My screen occasionally "froze" and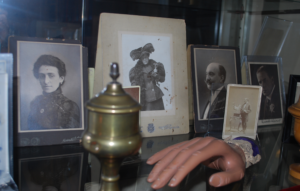 the auction moved on without my knowledge. By the time I figured it out the first time I had missed about 10 lots.  The solution each time it happened was to sign back in to the auction through live auctioneers.  That was a nuisance.  I am not sure if it was my Wi-Fi or the auction site but it happened about 4 times.
I'm looking particularly forward to Potter's Blackstone Auction in October.  Harry is my guy as far as early 20th century magicians go!