The Blackstone Magic Auction: Potter and Potter October 28, 2017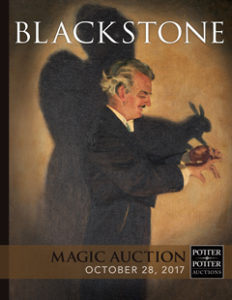 The word is out that the Blackstone Sr. Dress Tails in the Potter Blackstone auction were mine.  Since that is the case I thought you might want to read about my thought process in listing that particular item in the auction.
Those that know me and have visited my collection know that Blackstone is my guy.  It was not always so.  I became fascinated with Blackstone on November 24, of 2000.  On that day Blackstone Sr. became my primary magician focus for future collecting.  It was  the second day of the sale and auction of Egyptian Hall that I acquired Sr.'s stage worn clothing from the Blackstone  Show.   That purchase did three things: I began reading everything I could on the master magician, I began to acquire Blackstone Sr. Memorabilia and props and that day launched me into collecting performance clothing from famous magicians.  At the time no one was really interested in clothing.  Those two boxes of Blackstone Sr. Stage worn merchandise sat there for almost two days without being bought.
When I first was contacted about the Blackstone auction I began thinking about selling one of the Dress Tails that I had acquired. There are two and you can read about the other in one of my earlier blogs here   
If you read my blogs on investing there were three key factors driving this decision and I will quote small excerpts from those blogs now:
"If you are truly investing in magic, you must be prepared to sell. A very wise old magic dealer once told me ""The time to sell is when someone is knocking on your door with cash and no one is in line behind him"". Truer words have never been spoken." excerpt from 5/26/17 blog
"Spot trends (or create them). I was one of the first to collect magician costumes about 20 years ago. I had a passion for them and they were cheap. That insight will pay off many times at some point in the future when I sell them." excerpt from 5/26/17 blog
"Another way to sell key items is to consign them with an auction house.  Many of us who invest in magic do that on a regular basis.  I particularly do this when I think an item may have an extreme upside to the price." excerpt from 5/27/17 blog
(If you have not yet read my blogs on investing with magic I suggest you do so.  It may change your mind or re-enforce what you already believe.  You might think it is a bunch of hogwash, but it won't take long to read the three blogs to find out. The first one is here.)
Well it was time.  The Blackstone Dress Tails met all the criteria I had set for myself on when to sell. Magic clothing is now very hot in the collectible world (Cardini's tux had just sold a while back for almost $70,000!).  The Blackstone Auction was a place to showcase this extremely rare item (there are only two and I had them both. There were several of the Cardini around).  All stars aligned perfectly, and I knew it was time.
I took the one that I had that was a perfect match (Coat and Jacket by the same tailor on the same day) and gathered all of the documentation (the documentation that I had with the clothing is absolutely indisputable: see my blog on Provenance here) and headed too Chicago.  I will tell you there was some sadness as I took the clothing off the mannequin I had displayed It on for the last 17 years.  I was glad I had already promised Gabe or I may have not gone through with it.
Once before I had put the same clothing up for auction in an eBay Auction in about 2001.  I had a meager reserve on it and pulled the item before the reserve was met.   One of the great moves of my life.
Bottom line is the clothing was special to me.  It took listening to my own thoughts on investing along with a reminder from the advice from an old friend to pull the trigger
I was not there the day of the auction, but I was watching on my cell phone.
The Dress Tails had a $6-9,000 estimate.  I knew that was low.  When it passed $20,000 I began to really pay attention as that was the number I had established in my head that I would be happy with.  If you don't know what it finally sold for I will let you go to the Potter site and look for yourself.   A little research never hurt anyone.
I have been asked if I was happy with  I received.  That answer is an obvious yes, extremely happy. I had made the right choice at the right auction at the right time.
I have also been asked was i surprised.  Well the answer to that is "not really". I knew it had that potential.  Why? Please read the last line in number 3 excerpt above.
Below you will find several of the items items I purchased from the sale.