It is a well known fact that Houdini fought Spiritualism with vigor.  He had "operatives" all over the country and even had "operatives" posing as spiritualist in the various Spiritualists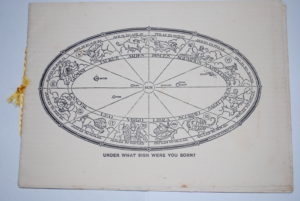 Communities of the day.
What is less known is his fight he began with Astrology and Astrologers in the last year of his life.  It seems anyone being conned out of money under the guise of some supernatural power to talk to the dead or offering a vision of the future under the pretense of astrology or clairvoyant readings drove Houdini to strike back through exposure of that false ability.
On September 12, 1926 from the Majestic Theater in Boston Houdini wrote Mr. John Kennedy Associate Editor of Colliers weekly.  The letter reads "I see where Science and Invention have beat me to the thought of exposing Astrology.  I wonder if you would care to follow up on your articles with an expose….if so, I would like to keep in touch as I could send my staff out for investigation….or better yet let you have at least one and you could handle the whole story yourself".
On September 27, 1926 in his reply Mr. Kennedy apologizes for his slow response saying he had been away.  He goes on to say "When do you expect to be in New York again?  I think there would be considerable interest in a story exposing so-called astrology".   He continues with "Incidentally, if you have any other pictures you can send for the piece in our other magazine, I should like to have them as soon as possible."
Houdini and Kennedy had obviously worked together on other projects.  It was not likely that  Houdini would have ever let him do the piece on Astrology on his own and even less likely that Kennedy would have ignored Houdini's request to help.
The truth is Houdini had been gathering information on Astrology for at least a number of months.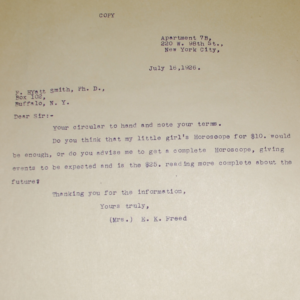 His focus on mail order Astrology led him to be able to have direct contact with the Astrologer he was reviewing for exposure.  Here is how it worked: Houdini solicited contacts to write the letters and the various request to the target Astrologers.  He wrote the request but instructed the people agreeing to work for him (most seemed to be friends or acquaintances but definitely trusted people) to write out exactly what he said in their own handwriting (Houdini was not above this tactic when wanting to make a point in other areas of exposure) and to send it to the names provided by Houdini.  He then was to be forwarded the unopened responses.  He would then write a follow up letter and give it to the confederate to begin the process again with their own handwriting and Houdini's follow up.  He always instructed them to keep any money order receipt (which he paid for) and register the letter.
On July 12, 1926 Houdini had his confederate Mrs. E.K. Freed of New York City write three Astrologers, who had advertised in the New York Times, requesting more information.  The astrologers were:  George Smallwood of Boston, F. Hyatt Smith of Buffalo and Miss Francis Courtney of Brooklyn New York requesting information on their prices and services. Responses came quickly with either direct preprinted quotes of services (each progressively costlier) or a simple quote for a provided service.
Houdini (under Mrs. Freed's handwriting) followed up with money orders and multiple readings and charts demonstrating the ability of these people to take advantage of an unwitting and gullible public.  Houdini (Mrs. Freed) even arranged a pay by the week plan for one of the astrologers.  The fee of $25 for a detailed astrology chart from F Hyatt Smith is typical.  In 1926 $25 was a considerable sum!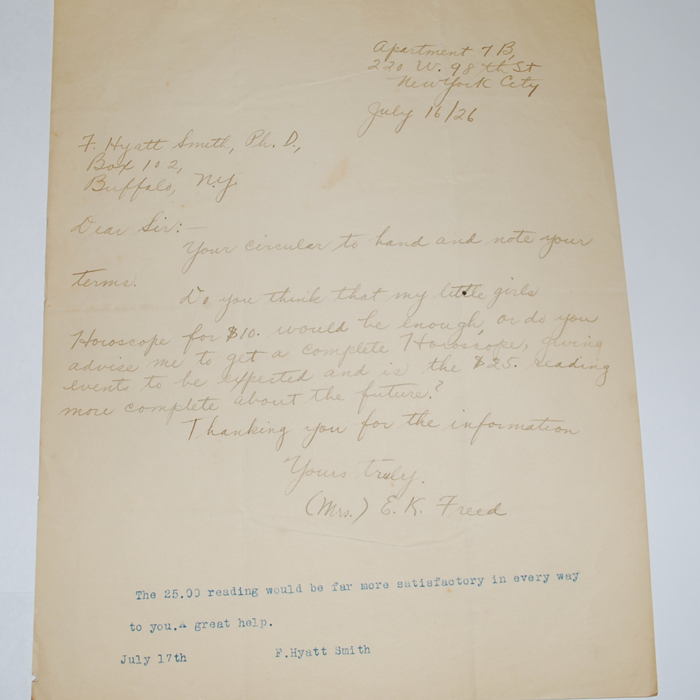 I am including a photograph of Houdini's copy of the letter he requested her to write to Mr. Hyatt and her actual hand written letter she sent (notice she copied his letter exactly as requested).  Interestingly, look at her reply from Mr. Hyatt who typed at the bottom of her letter before returning it  that the $25 reading would be far more satisfactory in every way (as opposed to the $10 reading).
I am also photographing a copy of George Smallwood's pricing which ranged from $3 for a simple reading to $50 for the deluxe package.
The astrologers were making some serious money not unlike the spiritualist of the day.  All did provide the documentation they indicated they would even for Mrs. Freed's fictitious little girl who she wrote them about. Some standard astrological charts and graphs and some hand-written documents.  Little did these people know they were dealing directly with the Great Houdini who planned their ultimate exposure.
Next week in our third and last (for now) Houdini installment, we will examine a variety of mini topics about Houdini.  Some of these facts may be well known and some may be new information.  It should be fun!