Book Collecting
If you ask me what I collect I always say apparatus, posters ephemera and costumes.  I never say books. I don't collect books as a rule and don't think of myself as a book collector. I now have just over 3,000 titles in my personal library.
Let me tell you how that came about.  The first 800 or so were me trying to make my magic performance better.  They were trick books and theory books.  My goal was to be as good as I could be in my magic performance.   I devoured each of them.
In the mid-nineties I then went to a MCA convention in Chicago and my life changed.  I began buying reference books and anything I could to learn about the history of magic.  That led me into biographies of magicians as well.  I picked up books on gambling and automata and a few allied arts such as ventriloquism and circus.  This was  a thirst for knowledge and had little to do with any thought of collecting books. I bought old catalogues just so I could identify apparatus. This added another 700 books to my library.
About 6 years ago I developed an interest in Houdini.  I had tried to avoid it because I knew it was a slippery slope getting tied up with Harry but it happened.  Now I am a "Houdini Nut" and began collecting books, as well as all other forms of "Houdiiana".  Am I sorry I got involved with Harry? No way. I wish I would have started sooner!
Harry's interest in Spiritualism created an interest of my own. You won't believe how many books are out there on Spiritualism?   I began buying those.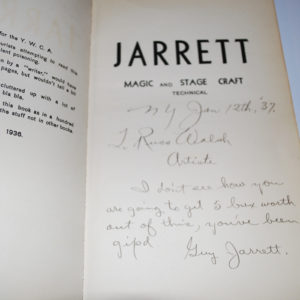 In the past three years, I have begun buying collections to support my on-line business. Some of these collections were heavy in books. Particularly Claude Crowe's who had a library anyone would be proud of.  I mean it was special.  If these collections had books that dealt with a subject I was interested in and I did not have a duplicate they went into my library as well.  This included many vintage books.  No old stuff like Scot's or anything like that but still quality books.  Just like that I have 3,000 books in my collection and another 2500 in my store inventory.
I still don't collect books.  In a dealers' room, I never look at books. I will chase apparatus, posters and ephemera for my collection and still buy many for my own collection a piece at a time. Wait.  Who am I kidding?  I guess now I must admit I am a book collector.  Maybe a reluctant one but a "book collector" can now be added to my list of titles.
Oh yes. I was going to talk about collecting autographed books and a few of my favorites. I can tell you that 90% of these were purchased by me for my collection one at a time.  I particularly like one magician signed to another.  That was my focus. So, with that in mind here are a few of my favorite pieces from the CCM.
"Jarret" inscribed to Russ Walsh by Guy Jarrett- This proved that Guy had a sense of humor. I am sure you know the story behind the Jarrett book.  The inscription reads: "To Russ Walsh Artiste.  I don't see how you are going to get five bux worth out of this. You have been giped.  Guy Jarrett". The book is in great shape. I purchased it from Joe Stevens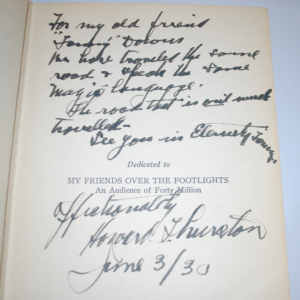 at an LA Conference.
"My Life in Magic" inscribed from Howard Thurston to Tommy Downs.  You can tell from the inscription that Thurston really had a great deal of admiration and respect for Downs.  He certainly puts Downs on his level of playing field. I am sure Downs felt the same way.  (Forget that letter sold on Martinka a few years back where Downs said Thurston was a dope fiend). Two old warriors of the magic profession. The inscription reads: To my old friend Tommy Downs.  We have traveled the same road and spoke the same magic language. The road that is not (illegible)traveled. See you in Eternity Tommy.  Affectionately Howard Thurston 3/30.  This book was the former property of Downs collector Bud Tracy.  I bought it from a private collector.
"Houdini: His Life Story" inscribed from Bess Houdini to David Vernon. This one got me started in autographed books.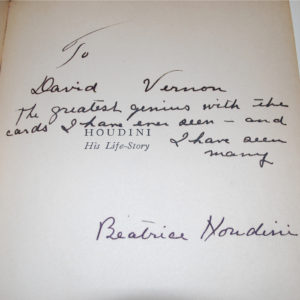 Vernon was my hero and I was not alone obviously.  This is what Bess had to say to The Professor; "To David Vernon, the greatest genius with the cards I have ever seen…and I have seen many.  Beatrice Houdini".  Bess and Vernon had known each other for a long time.  Bess was giving the Houdini book out to many people at the time (I have one she gave George Boston as well). However, she paid him the ultimate compliment by saying he was a genius and the best she had ever seen.  Amazing.  I am sure she had seen her share. The word genius would be used to describe Vernon the rest of his life and even today.
Helmut Schreiber's copy of Unmasking signed by Ernest Thorne.  I include this for two reasons.  It is singed by Earnest Thorn and was in Kalanag's Library and also because it was a gift to my good friend Robert ALbo from a friend and admirer of his (see other note).  I don't speak German so maybe someone can help me out with what it says.  See photo at the end of the blog.
Oscar Teale Higher Magic to Frederick Powell.  Powell was basically loved by everyone. This is a deluxe book with Gilt edges.  It is what it says,  from one dear friend to another.  The inscription was  written just after Higher Magic was published (1920).   See photo at the end of the blog.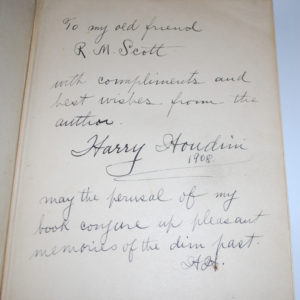 Houdini Unmasking of Robert Houdin to R. M.  Scott.  I include this because, well it is Houdini (refer to paragraph 4 of this blog).  He signed it once and then initialed it again making it a little rarer.  He could not help but to take a jab at Robert Houdin even in his inscription referring to magic's dim past. By now  everyone realizes this was a vendetta book which fortunately failed as Robert Houdin still holds his rightful place as the Father of Modern Magic.  It is said it is easier to find this book signed than not signed.  Houdini made this a gift to many of his friends and acquaintances. I purchased this from another collector.
World's Greatest Magic inscribed by David Copperfield to a writer of his first TV Special.  Included here because David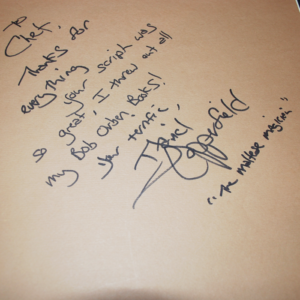 was so early in his career (he was 21).  This was just after his first ABC Special and you could tell he was excited.  I don't know who Chet was but David refers to himself as the Maltese Magician which was interesting (part of the show script). It shows that David at one time could really write legibly.  The hint of things to come. This was an eBay purchase.