I am pleased to announce that Magic Collectibles has acquired the 75 year collection of Dr. Richard "Doc" Mossey.  It was early September when I traveled to Milwaukee to meet this incredible man.  I had seen him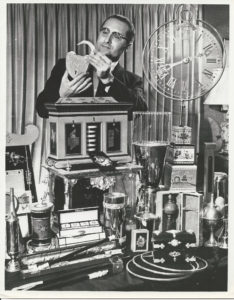 before at Collector meetings (he even performed at a few) but I had never had the pleasure of actually meeting him.  That was my loss, I wish we had met sooner.  The only thing that I found more fascinating than the magic collection was the man himself.  He did not say so directly but during our discussions I found Doc has three main loves: his Family (including his wonderful wife Pat), Medicine (Doc is a retired Surgeon) and Magic.  It was also great to learn that Doc was involved in what was the beginning of the CIA late in WWII!  We talked about some of the memory abilities that were tested to  work for the CIA and I would say very few people could have passed the rigorous test to be in this line of work!  As fascinating as all of this was it was his love for Magic that I wanted to discuss (what else this is me!) so I dove in.
Doc Mossey is loved by many in magic and no wonder.  He is a collector, lecturer, craftsman,  historian and most importantly perhaps, a performer of magic (he actually performed for Bess Houdini!: see photo below). Doc became at the time the youngest IBM President ever in the years of 1964-1965 at 39 years old. His many awards displayed in his home are evidence of of an important life dedicated to the Art of Magic. The Milwaukee IBM Ring saw fit to name the Ring The Dr. Richard Mossey IBM Ring #41 in another tribute to this great man.  Doc was also instrumental in the Houdini Club of Wisconsin. Doc began talking about his  association with Okito (Theo Bamberg) and  that really caught my attention as Okito is one of my magical heroes!
Doc met Okito while attending college in Chicago in the early 1950's. They struck up what was to be a lifelong friendship. Okito mentored Doc's early magic career.   Doc went on to focus on medicine become a General Surgeon in Milwaukee. Letters were exchanged over the years and they saw each other as much as  both men's demanding schedules would allow; Doc attending Okito performances whenever he could.  When Okito "retired" in the early 1960's  it was Doc who Okito let acquire several of his actual performance props and the custom boxes Okito made to transport them. Okito asked to borrow the  the props back to perform several requested post retirement shows.  Doc always obliged his request.  In a letter Okito told Doc he was offered $200 for one of the borrowed  props just after his performance.  Okito thought that was an outlandish sum of money!
I cannot say enough about this wonderful man.  I am so glad I got to meet him.  Doc  is fortunate to have right by his side his wife Pat.  She introduced herself to me as his "trophy wife".  Hard to argue as not only is she beautiful but is one of the kindest people I have met  (she is also obviously Doc's biggest fan as well!).  Each day while were were packing up the collection she made sure she fed us lunch and came to check on us frequently to see if we needed anything. Simply wonderful people.  Doc turned 95 shortly after I met him. He amazed me with his memory as I would ask about something and he would direct me exactly to where it was: which cabinet and what shelf! His love for magic as strong as ever and I know the decision to part with his collection  was a struggle for him. It is for anyone who truly cares about the Magic Art as he does. Doc's collection was vast and includes over 2,000 books from vintage to modern. Apparatus is also well represented form the famous makers of the turn of the century to modern. The collection also includes playing cards and prints of playing cards.  Of course key to the collection are several association pieces and the pieces of apparatus made by the master craftsman and Doc's close friend Okito (I was emotionally moved as i packed Okito's own personal Checker Cabinet into its custom green box).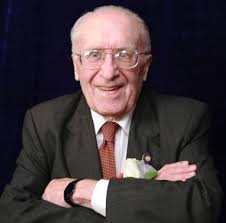 I promised Doc that I would find wonderful homes for his treasured collection of magic.   I will keep that promise.  Right now a few of the items are on display in my library but the majority is still packed in my warehouse ready to be unpacked and cataloged for the Magic Collectibles site.  We expect to start selling the collection later this spring.  When we list the items that belonged to Doc we will mark them "The Mossey Collection" as we know many of his friends will want to have part of the collection. Owning a piece of this wonderful collection would be a fine tribute to a man who dedicated his life to Medicine and Magic.