For those of you tuning in to find the latest on Houdini and his attack on astrology, I will have to ask you to wait a week. I am sorry but the Potter Spring Auction seems to be more of a time constraint (Houdini isn't going anywhere).  Besides I could use a little more time on the Houdini blog for research.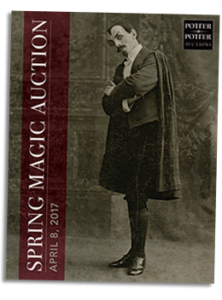 I thought I would walk you through the Potter Auction on a personal level and not a general one.  The only one I can do this with is me so i will tell you what I bought and sold and why.
Before I do that I do have a general observation to make.  For the first few years of the Potter Auction I was always confused by the estimates.  They for the most part seemed overly conservative.   I began to think that was a strategy employed to solicit bids.  If it was I think it worked because the final sales numbers were always better than the estimates. In the last couple of years I sense that changing. I find the estimates to be much more in line with what I think an item should sell for.  I don't have any statistics to back up what I am saying.  It is just a personal observation so take it for what it is worth.
PURCHASES
Now for my personal results. I purchased 4 things.  Here they are in order along with the reasons I decided to buy them.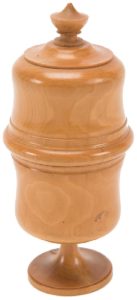 #55 Millet Vase- Wouldn't you know my first item would be a totally unplanned purchase. I hate those!  When the item came up I had the catalog in front of me following along and I had time to read the description and realized it was a double plunger for vanishing the seed and then making it re-appear.  Those are pretty rare.  The shape was  unusual as well and boxwood items are always a great display item. I pushed the button at $325 and no once else bid.  It was mine.  Now things like this normally bite me in the rear.  After I re-read the description I usually find something like "small unobtrusive crack does not affect working".  So I dug back into the description and all I found was "finely turned". OK good. Dodged a bullet on that one.
#82 Physique Amusante magic set-  I have been trying to trade up on my magic set collection so this fit the bill. I love the graphics on the box lid which was the main reason for the purchase. I had red lined this at $550 (I mentally always add the 23% on top of this so $650 was my high end on this one).  I thought the estimate was actually too high on this small set ($1,000 t0 $1500) but if I could get it for a $550 bid I would buy it.  The hammer dropped for me at $500.  Good buy!   Now I have to clear out one of my existing sets so you will see a new magic set or two on the MagicCollectibles.com  site soon.
#90 Tempo Tempo Clock Transposition- I always wanted this effect.  I missed one a few auctions ago for friendship reasons so I had my chance on this one (remember pigs get fat hogs get slaughtered).  I set my red line at  $2500 knowing i was looking at $3,000 if it went that far which I thought the set was worth at maximum (agreeing with Gabe's estimate). I don't mind paying up for something I want for my personal collection and this was one of those cases.  The green live auctioneers light came in to me at $2,200.  I was a happy boy. I had the item that so far i wanted the most.  The next one coming up however I had to have, no matter what the cost..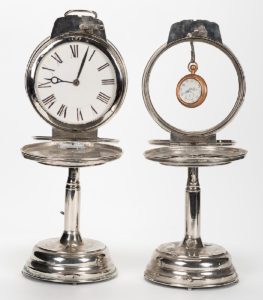 #327 Giant Queen of Hearts inscribed and signed by Joseffy-  I wanted this BAD.  So bad that I decided not to take any chances and left a $1500 bid on Live Auctioneers the day before just in case I lost power, couldn't get on the internet, fell asleep during the auction or was otherwise incapacitated and unable to bid.  The auction estimate was $300-$400. When I left my Live Auctioneer bid it rang up a new starting bid of $425. I did not know it did that but apparently the starting bid at the auction was now going to be $425 which was already $25 over the high estimate.  My luck. Others wanted it too! When #327 came up I was alert and ready. The Live Auctioneers bid came up starting at $425 and it indicated it was my bid. I waited with my finger on the bid button in case someone bid over my $1500 bid I had already placed.  In a green flash it was over.  I got the message "you won the auction".  I was elated!  No one had bid over the $425 so it was mine.
Now you're probably wondering why I wanted a signed jumbo card so bad. Was Joseffy a long lost relative?  Did I know something about the card no one else knew? The answer to the first question is "no" and the second is "well kinda".  You see what I did know is that Joseffy was a genius and an inventor supreme. For those of you who don't know Joseffy was the father of Balsamo (the talking skull that last performed wonderfully with Max Maven at a past LA Conference on Magic History) and a mechanical rapping hand among other things long before Johnny Gaughan adopted them. These are amazing pieces of mechanical ingenuity that would take a master mechanic to build today (I am not sure they could be built today).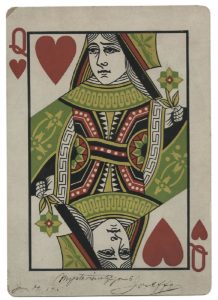 There is one other piece of magic that Joseffy built (not quite as famous as Balsamo but certainly incredible in its own right) and that was the Expanding Queen of Hearts. Joseffy would take a regular sized queen of hearts and in a flash it would grow to a card 10 times the original size. It is a complicated system of chains, gears and springs.  A few of you may be well ahead of me here so I will cut to the chase: I own Joseffy's expanding queen.  In the listing Gabe mentioned that this might be a performance souvenir.  Without question he is right. The queen in the auction matches the expanding queen exactly from the size down to every fine print and every color.  It is my feeling that Joseffy switched in the real giant queen to give as a souvenir after the expansion.  Now the Joseffy Expanding Queen for me is complete. I now have the final phase of the routine in my possession  signed by Joseffy. It could not be any sweeter.
In a future blog we will discuss Joseffy and his Expanding Queen for it is truly one of my favorite things.
SOLD ITEMS
I sold two things in he Potter Spring Auction.  Lets talk about what I sold and why.
#34 Conjuror Automaton circa 1880- This was my first automaton purchase that I made about 15 years ago.  Since then there have been others of significantly higher profile so I finally decided to let this one go. For those of you who read my investment blog I talk about trading up and that is what I did so it was time to recoup some money.  The automaton was a very nice piece and I thought it had some upside potential over the estimate.  It sold for $3200 (without premium) which was the low side of the auction estimate. I paid more for it so not a great investment for me.  Auctions are risk taking adventures so the right two people did not love it as much as I had.  Still I am glad it has found a good home.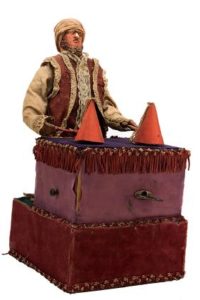 #170 Ricky Jay the Magic Magic Book- Although the listing did not mention it this was a very limited production book.  It sold for $1250 new in 1994.  I again thought it had upside potential. I acquired it as part of a collection so I thought I would take a chance. It sold for $1,000 which was within the auction estimate.  I can live with it.
One other comment about the pace of the auction.  It was much faster that the past. Until I got used to the quick hammer I missed a couple of bids.  I thought the speed was great though.  There really was ample time to bid once you got used to the pace.  This time the 15 minute break meant 15 minutes. I missed out on the Hooker rising card invitation because I was a poor judge of what 15 minutes was.
Another fine auction by the Potter Group in content and execution.  It is easy to see why they are the leaders in the Magic Auction World today.